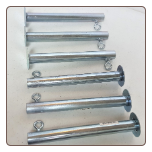 Click to enlarge image(s)
FREE SHIPPING IS FOR US DOMESTIC BUYERS ONLY

10" LONG CANOPY CEMENT
FOOT PAD / FOOTPAD (FCWB)
~~ 1" CANOPY FITTING ~~
6 Piece
FREE SHIPPING
Heavy Duty Fitting (Galvanized Steel)

With tightening eyebolts

6pc

Welded connections

Works great with EMT pipe (electrical conduit) and is available at most hardware stores

Our 1" fittings have an inner diameter of 1 1/4". Which works with 1" EMT pipe that has an outer diameter of 1 3/16".

Approx. 10" tall

Use for In ground mounting in concrete

Or mount in cement blocks, cans or buckets for portable use

We carry a very complete line of 3/4", 1", 1 3/8" & 1 5/8" Canopy fittings
We also carry a huge inventory of Solid poly tarps and Mesh shade tarps in many colors and sizes.
Ball bungees in 6", 9", 11" & 13" are also available in different styles and colors.
We do carry grommet kits and punches if additional holes are needed, pipe cutters if you need to change the length of your pipe and a small line of tools.
This is a NEW IMPORT Item (#943)


Need help with additional Quantities or International shipping?




Please Contact for any Help or assistance:




Starr Hill




918-647-6464




kountryb@gmail.com




Happy to Combine Shipping when possible