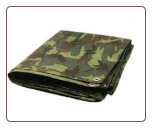 Click to enlarge image(s)
FREE SHIPPING IS FOR US DOMESTIC BUYERS ONLY

12' X 30' GREEN PREMIUM 8ml CAMOUFLAGE / CAMO POLY TARP

FINISHED SIZE APPROX. 11.6"X 29' 6"
Grommets on All sides
Weight 4.8 oz Per Square Yard
Mesh Count 10 x 10
Fiber Reinforced 3 layer w/UV Blocker
heavy duty Polyethylene
Aluminum Grommets Approximately every 36" on ALL sides
Rope Reinforced Double Edges
Rope Reinforced Corners and Corner Guards
100% Water Proof, Rot Proof & Mildew Resistant
All Temperature, All season use, Artic Flexibility
Finished size is approximately 3" to 6" less than Cut Size
All tarp sizes are listed as "Cut Sizes",
this is the industry standard.
This is a New IMPORT Tarp
(#1228AFS)
NEED HELP, ADDITIONAL QUANITIES or
INTERNATIONAL SHIPPING?
Please Call 918-647-6464 OR email kountryb@gmail.com